Rinnai H1 continuous water heaters and boilers – Practical and economic decarbonisation delivered through innovation in Hydrogen and renewable liquid gas ready technology. 
Find out more about our condensing water heater, LPG Water Heater & hydrogen ready boilers
We are providing today's gas installers with a practical and economic route to lower onsite carbon without the need for expensive remedial works. Rinnai water heaters are Hydrogen Blend and Bio-LPG Ready with I2HY20 certification, meaning that when Hydrogen blends enter the grid the fleet of Rinnai condensing water heaters will produce even less carbon.
There are ambitions for 100% Hydrogen being available by the mid-2030s therefore we are launching a new certified Rinnai Sensei condensing water heater with an extended warranty of 12 years along with Hydrogen Ready Boilers. Rinnai Sensei condensing water heaters are proven to lower onsite Carbon by up to 30% when replacing gas-fired storage systems, to validate this Rinnai supply design support services that include Capital and operational expenditure calculations and carbon modeling.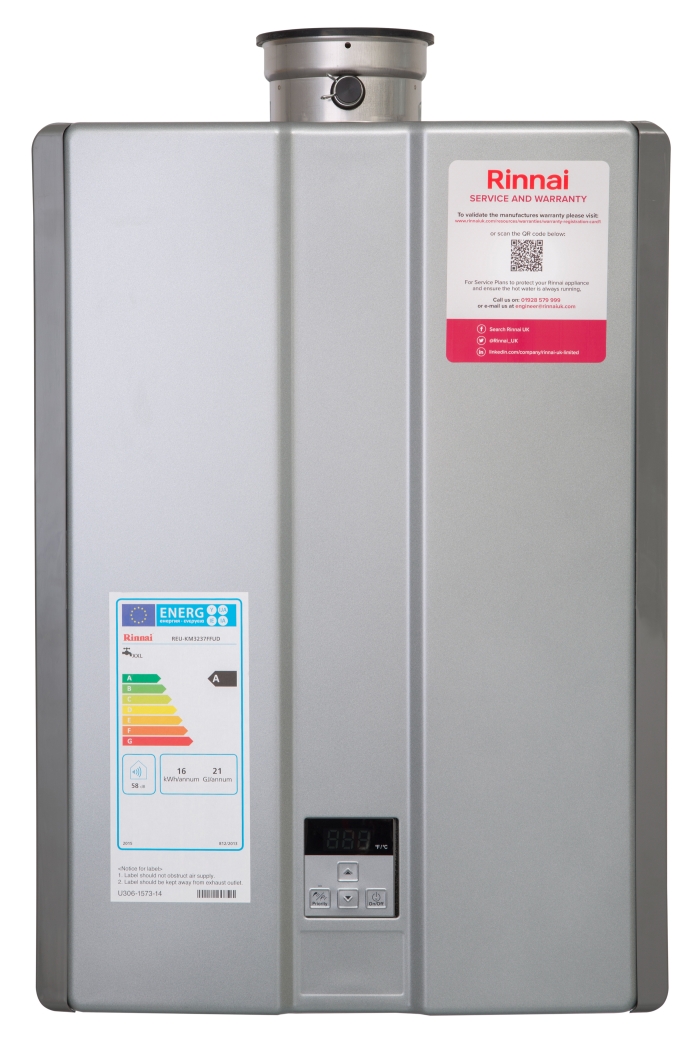 Rinnai Hydrogen blend-ready water heaters have a market-leading efficiency of 97% and a modulation range of 13-1 ensuring that gas is only used when needed, these core product functions are supported by scale protection to promote lifetime efficiency and remote monitoring connectivity to ensure the system is always running at its optimum.
Rinnai Natural gas, Hydrogen Blend ready and LPG water heaters are "high output" capable of more than 1500 litres per hour of temperature-accurate hot water whilst also being lightweight and diminutive making transportation and installation simple and manageable without the requirement of heavy lifting gear. The commercial condensing Sensei range only produces small amounts of NOx (27mg /kW) max, meaning that they are one of the cleanest combusting condensing water heaters in the world.
To enquire about any of these products follow this link  Ask us a question :: Rinnai UK (rinnai-uk.co.uk)To support the ongoing energy transition Rinnai can supply Hydrogen, Hydrogen blend ready boilers and Renewable gas ready commercial water heaters, retrofittable Hybrid Solar, and LOW-GWP Heat Pump Hybrids along with standalone Heat pump technology, condensing water heater, LPG Water Heater & hydrogen ready boilers. We can include design support, free training, and much more.
To view our range of continuous water Heaters & Boilers click here Commercial condensing water heaters including Hydrogen ready, bioLPG ready plus solar thermal and heat pumps (rinnai-uk.co.uk)
Hydrogen blends ready, renewable liquid fuel ready, and electric water heating equipment. Condensing water heaters, LPG Water Heaters & hydrogen ready boilers